SUPER POWERED NEWS BITES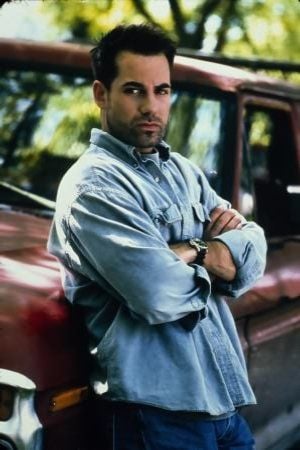 The Shanti Virus Cured
Senior Health Correspondent Kat Bittner has uncovered news of a cure for
Shanti virus
and it's name is
Nathan Petrelli
. Clinical trials show that exposing infected males to Petrelli results in:
Pantywaist looks of confusion

Dewy eyes with trembling lower lip

Fierce Guy-Love man hugs and

Complete reversal of all idiotic behavior

However, Petrelli has not proven to be an effective treatment for
female
patients. Quite the opposite. Due to infected women's inability to be
'that damn stupid,'
the virus eventually results in their deaths via fiery explosion. (Research suggests blondes have the highest virus-to-explosion ratio.)
If you are a woman with extraordinary abilities and are infected with the Shanti Virus, please contact Monroe Memorial at 1 800 THATS RIGHT THE WOMAN IS SMARTER.
Henchman Go on Strike!
Sick of being reduced to fodder by the "fat cats" and never getting the spoils of victory The Henchmen Of Evildoers Association (HOEA) has gone on strike and asks "'Xactly what's our motivation? When's it go well for us?" but admitted "Yah, when Wonder Bags wraps them legs 'round ya head and squeezes it's nice for about nine seconds. Then ya wake up with Big Fruity as your cellmate. So again, when's it go well for us?"

HOEA intends to stage a walkout and commence negotiations(as a collective bargaining unit) in order to secure hazardous duty pay, retirement and health benefits, coverage of legal costs and royalties on the spoils.

The association, led by
Thing 1
and
Thing 2
of
Cat in the Hat
fame, welcomes: stooges, thugs, minions, cheap muscle, adjutants, accountants (
criminal experience a plus
), assorted flunkies and—the ultimate cannon fodder—red shirt Starfleet ensigns.
Let A Smile Be Your Umbrella but
Put A Helmet On Your Soldier
If You're Gonna Plow Right Through 'Em, You Might As Well Cover Your Horn!
Brought to you by Rhino and new!

Trojan® Adamantium
Tipped Condoms

in Magnum.
Now Strong Enough to Do She-Hulk!



Best In Show
Raja, on gigglefest
Aliens In America,
said
"You know, growing up in Pakistan it never made sense to me how, in your religion, Jesus grew up to be so fat. Then I realized this was Santa Claus. I should have known he was too jolly to be a Messiah."


NEWS BITES COMPILED BY
Senior Corespondent
KAT BITTNER
& SHERIN NICOLE
Edited by DREW BITTNER